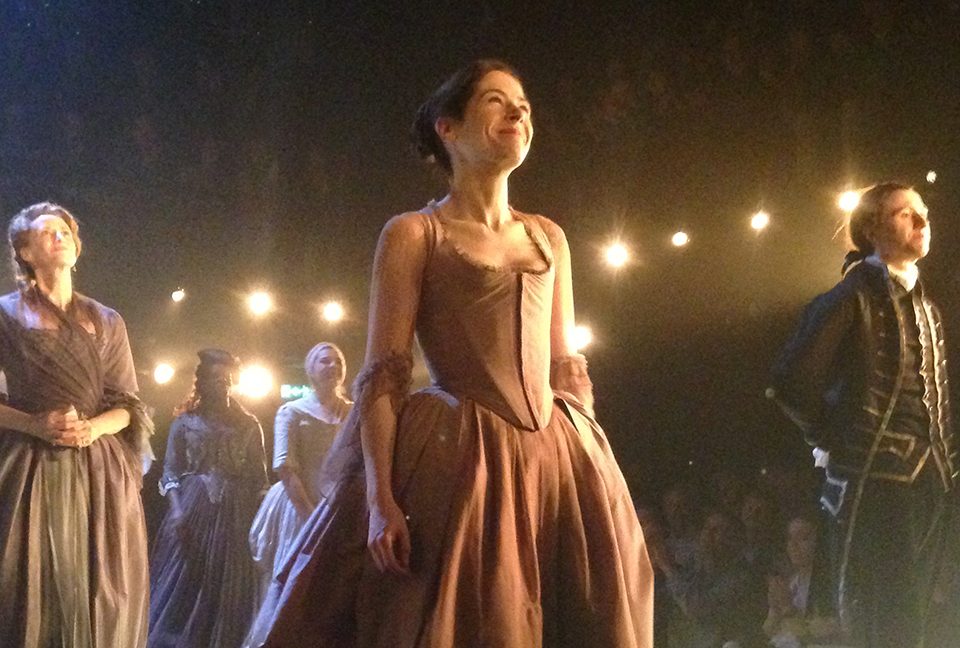 Les Liaisons Dangereuses live!
We went to see Elaine in Les Liaisons Dangereuses, first at Cineworld for the NTLive broadcast on Jan 28th, then last night, live at the Donmar Warehouse in Covent Garden.
We managed to finally get £10 front row tickets after weeks of trying, and our seats were pretty darn good; right by the actors entrance to the stage, just behind the couch.
We also happened to be there on the night a very famous actress decided to go and see her friend and one time co-star, Dominic West.
We got to the Donmar at about 7pm to collect our tickets and as we walked up the stairs to the drinks area, who should be coming down the stairs … none other than Helena Bonham Carter! She was there with her Mum (we think) and sat up in the balcony to our right to watch the play. It was a coo indeed to be in the same room with not only the amazing stars of the play, but a great actress in Helena too. I think the ladies who were sat next to her couldn't quite believe their luck!
Anyway, back to the play … the live broadcast at the cinema was nothing but spectacular. It was brilliantly filmed and the choreography and operatic singing, particularly by Alison Arnopp between scenes was glorious.
Janet McTeer was amazing as La Marquise de Merteuil and Dominic was great as Le Vicomte de Valmont. Stand out and simply breathtaking of course was Elaine, as Madame de Tourvel. Once again, Elaine has taken on a very dramatic, gut wrenching and very emotional role; but boy does she deliver! There is a particular scene where she completely loses it and man oh man, she does not hold back! It was one thing seeing that particular scene on the big screen, but a whole other thing seeing it right there in front of us, at eye level! It actually took my breath away, made my eyes water (just a bit) and all I wanted to do was give her a cuddle – it was simply heart breaking and you couldn't help but feel for Madame de Tourvel. To do that day after day and then twice a week two times a day is just unbelievable. How the actors manage to put in the same, if not a better performance day after day is beyond me and something I could never do. So I take my hat off to them all for such marvellous and captivating performances but more so (of course as I'm biased) to Elaine. Bravo, bravo, bravo!
Can't wait to see you tread the boards again soon!
After the show
We went to the ladies after the show and when we came out we were stuck between Dominic West, Janet McTeer and Helena Bonham Carter! Oh what a shame!
Once we managed to break out of the actors gathering going on, we waited outside for a bit to see them come out. Morfydd Clark who played Cecile snuck out by the exit near the ladies and I think Elaine might have too as she never appeared out of the front doors. We managed to get a sneaky pic with Dominic but completely chickened out when Janet and Alison came out. Bowling balls in stomachs, deserts in mouths and all that jazz.
A few lucky duckies got some pics with Helena, but she called a halt to it by the time we were able to try and nab a pic or two. Oh well, it was still cool to see her nonetheless.
Les Liaisons Dangereuses is in its final week, finishing up on Saturday the 13th Feb, so it's probably too late to get tickets as the play is completely sold out; but if you already have tickets and are going to see the performance this week, you definitely won't be disappointed! It's a wonderfully crafted and directed play all thanks to the very talented Josie Rourke.
Thanks again to all the actors and creatives involved in putting together this wonderful production. We were both honoured to see it on both screen and in the live setting … candle wax and all.